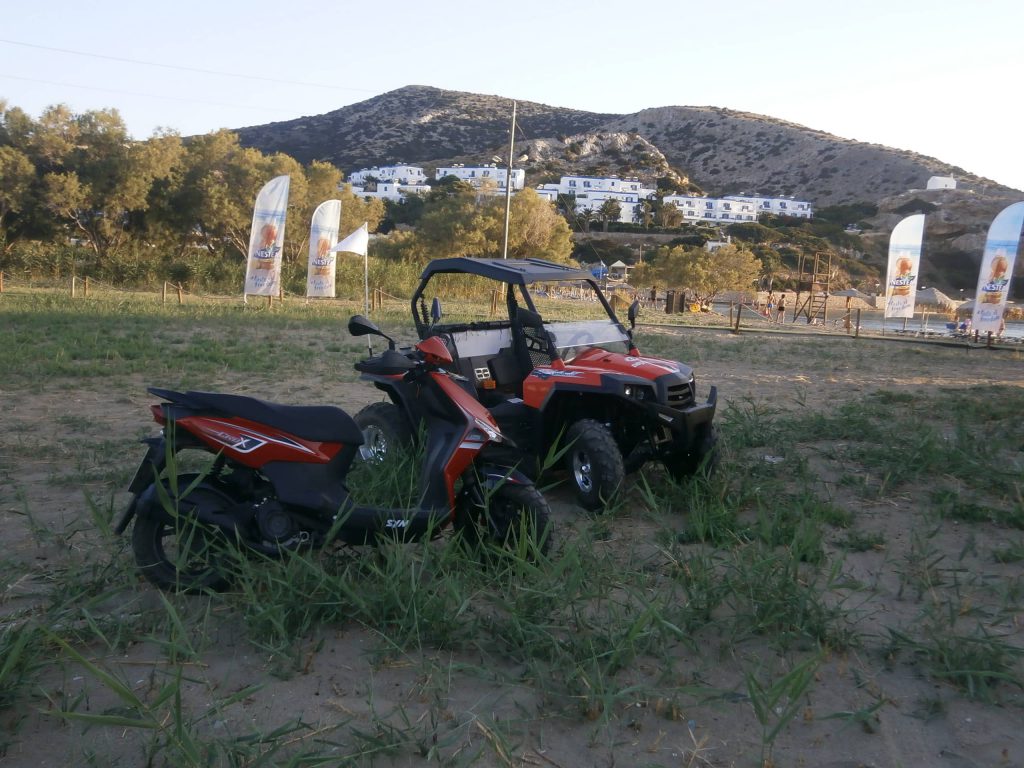 Moto-Rent George company facilities are located in the beautiful town of Galissas, one of the most lovely and special in Syros.The company jointly opened the door to the public with George Rooms rental in the distant 1990 and continues successfully and thoroughly to this day. . Due to our rapid and gradual expansion, we managed to comprise our fleet with motorcycles of small and bigger liter engines, bicycles, four-wheelers, buggies and UTVS ensuring the biggest variety of land vehicles on the island within a few years since opening.We strive to provide quality services in competitive prices to ensure a friendly and honest cooperation. Our company is renown for our fast and excellent services in any location within the island, any time. With eager personnel and a great collection of vehicles that will satisfy even the most demanding, we are adequate to serve you at any given time.
There is a big availability in scooters and underbone motorcycles as much as in four-wheelers and UTVS. Engine sizes range from 50cc to 200cc in two-wheelers while four-wheelers range from 50cc to 450cc. Our equipment is mainly provided by several trustworthy companies such as Piaggio, Kymco, SYM and Daytona. They have been proven mostly suitable for all areas and road conditions of the island. Our fleet is being renewed on a fast pace and fulfills all the necessary requirements for the proper and easy use of the motorcycle. We have over 50 vehicles of different sizes in our disposal from which you may showcase some samples in the gallery section of our site. Ever since the first day of our enstablishment, the total amount of acquired vehicles exceeds 120 with most of them having been retired or engineeringly modified.
For greater convenience, we provide you with free of charge helmets and an island map along with the vehicles. You can find information regarding the vehicle rental in the "Condition" section of our site. In case you are interested in making a reservation for some of our vehicles, we encourage you to contact us via telephone call or e-mail, two or three days prior. Finally, there are the options of deliverability and retrieval, in and from the area you wish(harbor,airport,hotel), as long as mutual arrangements have been made.
Contact us with a simple step ...